Farm holiday Colle degli Ulivi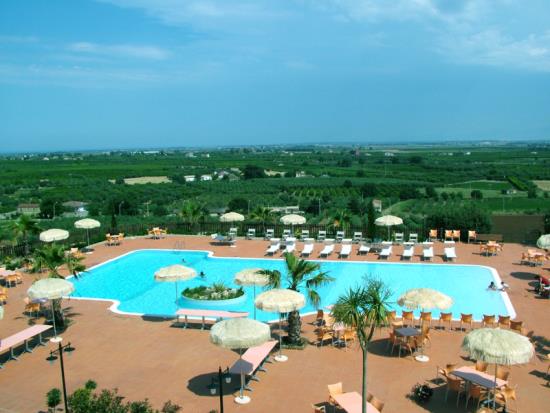 Description
The farm holiday "Colle Degli Ulivi" is set on Sibari's hill, dipped in the uncontaminated nature and on the background, the Ionian sea and the stately profile of mountains of Pollino and Sila, to give to all our guests a vacation of rare beauty.
Our Farm Holidays Village, Colle Degli Ulivi, surrounded by olive trees and Mediterranean stain, reminds the "Sybarite" style, elegant and pleasant, distant only few kilometres from the Ionian sea and four steps from the fabulous National Park of Pollino.
Farm Holidays Village "Colle degli ulivi" is situated on one of the most suggestive area of the Calabrian Jonic coat, between Sibari and the National Park of Pollino, in the heart of "Great Greece", where natural beauty of mountain melting itself into the intense and changing colors of the sea, to the ever clear sky and to the sun that heats the skin, in an agreement of sure charm for a vacation to the insignia of relax, of healthy fun and of discovered taste to live to narrow contact with nature.

Farm Holidays Village "Colle degli ulivi" offers to its guests various services:
• Restaurant: There are three restaurant rooms with air conditioning, which one is a private one and the other a breakfast one
• Lunch and Dinner: (typical cuisine) with a bar and a relax area with a fireplace. A restaurant room for a pizzeria with a firewood oven.
• Reception: Value deposit, credit card service, selling typical product of our production.




Our Activities
Inside the village a swimming pool of 300 square metres, with Jacuzzi tub, cafe and solarium.
Besides there is possible to practise the following sports:
• Trekking
• Horse ride
• Mountain bike
• Rafting (on Lao Lake)
• Excursions in the National Park of Pollino and in the throats of Raganello
• Archery
• Tennis
• Mini Soccer
• Karaoke and various dances
Naturally you will be able to actively participate in the rural life that will let you discover the pleasure way of living dipped in the nature.


Services


• Restaurant
• Rooms with air conditioning
• Bar
• Relax area with a fireplace
• Value deposit
• Credit card service
• Selling typical product of our production.

Attractions


• Sea
• National Park of Pollino.

---

Activities


• Trekking
• Horse ride
• Mountain bike
• Rafting (on Lao Lake)
• Excursions in the National Park of Pollino and in the throats of Raganello
• Archery
• Tennis
• Mini Soccer
• Karaoke and various dances

How to reach it


By car: Coming from Highway A3 SA-RC it is preferable to take Sibari - Firmo exit and follow the road signs to Cassano Jonio - Lauropoli exit on the state road SS 534 for about 10 kms. Coming From the Ionic slope drive along highway A14 up to Taranto and therefore take on SS 106 to Sibari to follow the road signs for Cassano Ionio - Lauropoli.
• By train: It is possible to reach us coming with the railway line Battipaglia - Reggio Calabria, from the Jonic slope. The railway station closest to us is Sibari Station.
Train timetables on-line.
• By bus: SIMET bus company (Tel. 0983/885234 - 0983/520315 0983/512793 - 4) with departures and arrivals from: Salerno, Napoli, Foggia, San Giovanni Rotondo, Roma, Perugia, Siena, Firenze, Livorno, Pisa, Bologna, Milano, Ferrara, Padova, Verona, Brescia, Genova, Alessandria, Torino.
IAS SCURA bus company (Tel. 0983/886696 - 0983/565635) ) with departures and arrivals from: Bologna, Milano, Messina, Taormina, Catania, Taranto, Bari, San Giovanni Rotondo, Roma, Siena, Perugia, Firenze, Pisa.
• By Airplane: Lamezia Terme International Airport (Infoline 0968/411032 – 0968/414111) 130 kms from Lauropoli or S. ANNA Airport of Crotone. From those airports you can reach us by bus, train or renting a car. Daily flights from and to Roma, Milano and Bologna.

Prezzi

Low season

€

0

Mean season

€

0

Hig season

€

0

Look the lastminutes


No Last Minute !
Add to your wishes list


Crea una lista delle tue strutture preferite

INFO
Pictures Gallery
Click to enlarge