Farm Holiday Villa Toppole Villa for rent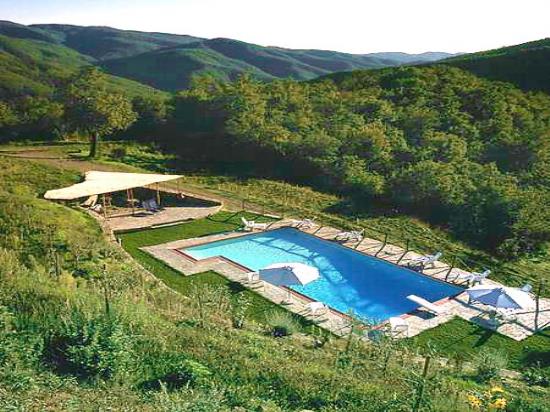 Description
Villa Toppole is an enchanting and characteristic hill house near Arezzo. The villa is the result of a skilful, architectural renovation of a typical 17th century building. Surrounded by
an immense park of centuries old trees, it is undoubtedly the perfect place to enjoy the peacefulness of the Tuscan countryside.
It is open all year round and offers its
guests lodgings in 5 rooms and a suite, all impeccably furnished in period style.
The large meadow, set in a panoramic area of the property, offers a barbecue and swimming pool for relaxing, fun-filled afternoons.
The guests at Villa Toppole can enjoy the excellent local biological products, not to mention the delicious cuisine which is intertwined with the traditions of the land.
Services


• Cook
• Restaurant service
• Pool: dimensions 8 x 16 metres
• with a minimum depth of 1.20 meters and a maximum depth of 2 meters; the pool is in the garden and is furnished with sun beds
• umbrellas
• diving board
• bar area with refrigerator.
• Shopping
• Waiters/Waitresses
• Baby-sitter
• Cooking course
• Pizza night
• Photography
• local craft (bobbin lace
• wood engraving) Courses
• Sampling of our organic products
• Organisation of excursions
• Wine Tours
• Outlet shopping Tour
• Cultural
• Artistic
• Religious Tours
• artistici
• religiosi
• Mountain Bike rental

Attractions




• -

---

Activities


• Fishing and surfing
• Country routes and trails for Mountain Biking
• Trekking C.A.I. marked trails.
• Stables for outings on horseback and equitation
• Equitation courses
• Golf courses
• Golf and tennis
• Tandem parachute jumping from june to november
• Glider flying instruction
• Reconnaissance flights over the Tiberina valley
• Mushroom hunting in the structure's woodlands

How to reach it


rom Rome: follow the directions for the highway in the direction of Florence. Exit at Arezzo and at the SS73 junction, take the road for Sansepolcro. After 12 km, pass
the town of Palazzo del Pero, continue for 7 km, take the interchange after Molino Nuovo. Enter the two lane roadway, continue to the "Stop". Continue for 100 mt, turn left. Follow
the directions for Toppole Badia S. Veriano; Relais is 2,5 km ahead on the left.
From Florence: follow the signs for Prato. After about 3 minutes you will see signs for Highway A1, direction Rome.
Exit at Arezzo (about one hour from Florence) and follow the above directions.
From Pisa: leave the Pisa Airport from the exit adjacent to the car rental parking lot. Turn right, in the direction of Florence, taking the two lane road. Once past the city, take
highway A1 in the direction of Rome. Exit at Arezzo (1 km from Arezzo), continue by following the above directions.
With train: it is also possible to take the train on the Milan-Bologna-Florence-Rome line, get off at Arezzo.

Distances: A1 34 km, Arezzo 39 km, Florence 105 km, Prato 129 km, Pisa 205 km, Rome 250 km.

Prezzi

Low season

€

0

Mean season

€

0

Hig season

€

0

Look the lastminutes


No Last Minute !
Add to your wishes list


Crea una lista delle tue strutture preferite

INFO
Pictures Gallery
Click to enlarge