Farm Holiday L'Ippocastano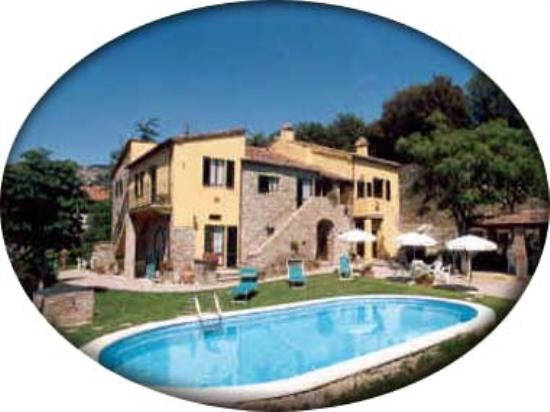 Description
The Ippocastano farm holiday is an old cottage located at the foot of the pleasant hill of Cortona in a unique area, rich in Etruscan history. Thanks to its fine position, you can get a charming view over its soft hills and cultivated fields of the Valdichiana and you can enjoy its unique sunset. You can find the Ippocastano at the wine and gastronomic track on the route "vino terre di Arezzo". L'Ippocastano cottage gave hospitality in year 2002 to "UNDER THE TUSCANA SUN" FILM'S teams.
The city of Cortona is situated within the beautiful countryside of the Valdichiana. Where houses have been built according to the contryfolks needs. Ippocastano is one of these houses, incredible but true! The cottage springs forth from the gentle cortonese hillside and is the result of long and accurate resturation. Parfume of sweet flowers are the frame of a swimming pool (available from Mach to September) surrounded by a radiant garden equip with garden furniture.

All the apartments have been meticulously restructured with considerate attention to every detail. The elegant interior design gives each apartment a typical Italian style, without neglecting the modern comforts. The Ippocastano is ideal for those who want to be surrounded by comfort within a relaxing and open air environment.
A paradise near all comforts (railway station, buses, shop and motorways) that offer tourists a holiday of their dreams! Other possible activities: are cycling, tennis, horseriding and long country walks. Nearby there are: a water park and swimming pool with watherpark, games for children, riding and riding school.

Services


• Swimming pool
• Typical products
• Parking
• Pets accpted

Attractions




• -

---

Activities




• -

How to reach it


By car: from Milan, Florence, Rome, exit motorway del Sole (A1) at the Valdichiana district-road keeperís house.
Take the motorway "Siena-Perugia" direction Perugia.
After a few kilometres take the exit to Cortona. By driving along Via Lauretana, towards the hill of Cortona, you will find Camucia and the Ippocastano, at 14, Via Fratelli Cervi.
By train: Camucia Railway Station is about 300 metres away from the Ippocastano.
Fast, intercity and Express trains usually stop in Terontola, 10 kilometres away from Camucia, or at the railway station of Arezzo, 25 kilometers away from the Ippocastano, Camucia (AR).

Prezzi

Low season

€

0

Mean season

€

0

Hig season

€

0

Look the lastminutes


No Last Minute !
Add to your wishes list


Crea una lista delle tue strutture preferite

INFO
Pictures Gallery
Click to enlarge