Farmhouse Villa Brocchi Colonna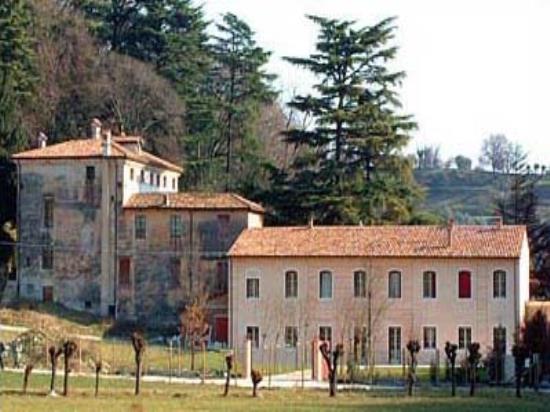 Description
Just 2 km from the centre of Bassano del Grappa in the quarter of Angarano and along Via S. Giorgio, where the mountain Castellaro meets the surrounding emerald hills, you will discover Villa Brocchi Colonna. The attractive old wood that surrounds the Villa and the colourful hills full of olive trees and vineyards give the landscape a striking beauty. This is an area full of history. In the fields around the Villa many archeological remains have been found. Most of them are kept in the museum of Bassano del Grappa where an ancient sepulchre may also be seen.
In the nearby little church of San Giorgio donated by the family Brocchi Colonna to the church of St. Eusebio, some important frescoes have been restored. During the seventeenth century the beauty of the area made the owner of that time build a villa to spend the summers away from the heat of Venice. The main part of the villa has been built on the former hunting lodge which has a rare double level identical loggia. All the columns and the design of the last two floors reflect the seventeenth century architecture.

During the following centuries the south-east and south-west side of the villa became a big granary and a hayloft to keep the harvest. Today you will find here our charming country farmhouse hotel - the Villa Brocchi Colonna. In the early 1900s the two loggia were covered with glass as the villa was lived in throughout the year. Villa Brocchi Colonna has always belonged to the same noble family who has tried to preserve the Villa in its original state. During the World War the villa became a hospital but later its park was popular as the venue for a well known Flower Festival held in the spring. On the steps outside the Villa many prestigious choirs and local poetry writers have performed such as Gino Pistorello, Mario Rigoni Stern, Dino Coltro who decided to set his play 'La Lucerna dei Filò' between the picturesque portico of the villa and the old cellar, making it unforgettable.
Today the farm is run by Valerio Brocchi Colonna the younger brother who produces his own wine and olive oil following the family tradition of producing high quality natural farm produce.


Services


• Rooms
• TV
• B&B
• Typical products
• Pets allowed

Attractions




• -

---

Activities




• -

How to reach it


By motorway: A 4 MILANO - VENEZIA way out PADOVA OVEST, A 31 VALDASTICO way out DUEVILLE, way out VICENZA NORD, A 13BOLOGNA - PADOVA way out PADOVA SUD, A 27 VENEZIA - BELLUNO way out TREVISO, State road, Ss 47 PADOVA - TRENTO, Ss 248 SCHIAVONESCA MAROSTICANA.
By plane: VENICE Marco Polo airoport,Tessera Km 65. BUS to Mestre, Railway station. train to Bassano del Grappa. TREVISO (RyanAir), Km 45. BUS to Treviso Raillway station, train to Bassano del Grappa. VERONA Catullo airoport, Villafranca Km 70.
By train: Bassano del grappa railway station, TAXI also by night.


Prezzi

Low season

€

90

Mean season

€

110

Hig season

€

140

Look the lastminutes


No Last Minute !
Add to your wishes list


Crea una lista delle tue strutture preferite

INFO
Pictures Gallery
Click to enlarge